"I thought I'd be there by now," I confessed to my friend Tony Morgan several minutes into our conversation about leadership issues. I had never had the courage to express this thought out loud before. But it was true… wherever there was. I felt as though I hadn't accomplished enough. But after blurting out my thoughts with such gut-level honesty, my life started to change.
I felt as though I hadn't accomplished enough.
Can you relate?
Unintentionally, I had subscribed to the false belief that success was directly related to building something huge and meaningful for the masses. Why don't I have a large church yet? I wondered. There must be something wrong with me as a person and a leader.
Many people from all walks of life begin to sense increasing pressure as we get older. By then it's clear that life is not going to turn out as we hoped. It happens in our marriages, our parenting, and our vocations. It happens with our homes, our travel (or lack thereof), our bank accounts, and our hobbies. I'm amazed by the number of twenty- and thirty-somethings I meet who already feel disappointment about not having reached the milestones they think they should have reached, even with so much life still ahead of them.
Maybe you've tried what the "experts" have offered as guarantees for growth only to discover that you become more stalled with each new attempt to get moving.
Maybe you feel more isolated and disconnected than you ever expected to when you started in ministry.
Maybe you feel like you've failed and that failure defines you.
Maybe you find yourself spending most of the day comparing your ministry results to what you see from the churches you look up to.
WHY WE CREATED STALLEDBOX
You see, discouragement, comparison, and isolation are their own type of pandemic among pastors. I truly interact with leaders every single week who feel defeated.
But pastor, you are not in this alone. Even when it feels like things are stacked against you. Even when it feels like you can't get traction. You are not alone.
To address the current trends we're seeing in leadership, we developed From Stalled to Freedom (StalledBox), and I really want to encourage you to check it out. This resource is completely designed for one reason: To encourage you in the seasons where it feels like you're nothing but stalled.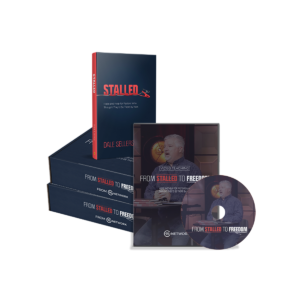 Whether you work through this resource on your own or with your team, the time spent working through these teachings will give you fresh perspective on how ministry is a lot less about what you do FOR God, and a whole lot more about what you do FROM God.
This resource will provide you with practical wisdom from a friend willing to be honest about his experiences to move you, quite simply, from feeling stalled to experiencing freedom.
From Stalled to Freedom includes:
Box of Materials Delivered Right to Your Door
DVD + Digital Access to 3 Keynote Stalled Teachings
Complimentary Copy of Stalled: Hope and Help for Pastors Who Thought They'd Be There By Now
Access to the Official Stalled Handout & "Looking Inward" Journaling Prompts
Free Year of 95Network Membership (Already a member? Be sure to use your discount code.)