These past few weeks have pushed everybody to their limits. None of us had the slightest clue as to what was coming. Neither were we prepared by having a rock-solid plan in place to handle the effects of a worldwide pandemic.
The consequences of confronting COVID-19 required answers from every leader as to how our individual organization was going to deal with it. And for many of us, we had to make things up on the go.
Dealing with all of this has me wondering how you are doing today. I mean how are you really doing? In total transparency, I have to admit that it's been one of the most difficult situations to lead through that I've personally experienced. How about you?
The interesting thing about times like this is that they don't create character in us… they reveal it. This is also true with how we lead. Leaders are always building something. It may be physical, structural, or cultural. No matter which arena you're currently navigating, you understand the stress that comes with the job.  Anyone can lead when things are going well as we build towards the future. However, when the pressure begins to mount from an unfamiliar circumstance or sudden change of plans, what mode of operation do you naturally default to?
In other words, where do you look to find safety as a leader when you're suddenly blindsided?
There are certain defaults that we naturally go to when faced with having to lead through a new situation. The fear of the unknown always reveals our default. For most of us, we weren't trained to lead through so much of what we have to deal with each day a leader. Therefore, we either figure it out on our own or just do what our peers do.
And for many of us, when we think about it, isn't it just easier to do what our denomination has always done? Even if it no longer works, there is security in knowing that our overseer will back us up for towing the company line.
Whether we like it or not, the past few weeks have not only revealed the kind of builder we are, it has also revealed what we are building on. Truthfully, a builder who cuts corners with how they build can create a lasting structure in certain cases. Conversely, another builder who is meticulous with every detail can build a structure that only lasts a short period of time even with being so committed to the process.
The factor that determines long-term success is the quality of the foundation.
Jesus addressed this as He concluded the Sermon on the Mount in Matthew 7:24-27:
"These words I speak to you are not incidental additions to your life, homeowner improvements to your standard of living. They are foundational words, words to build a life on. If you work these words into your life, you are like a smart carpenter who built his house on solid rock. Rain poured down, the river flooded, a tornado hit – but nothing moved that house. It was fixed to the rock. But if you just use my words in Bible studies and don't work them into your life, you are like a stupid carpenter who built his house on the sandy beach. When a storm rolled in and the waves came up, it collapsed like a house of cards." (MSG)
Notice Jesus didn't say if the storms come. He said when! If you have served in ministry leadership for any period of time, you know the effect of the storms. I have found that the only difference between standing strong despite the storm or being devastated by it has been whether I had built on a solid foundation or not.
And yes, I do mean a solid foundation on Scripture. But I also mean a solid foundation of leadership. A clear mission and vision. A culture of leadership development that fulfills the calling of Ephesians 4. And the foundation of healthy structures and systems that help us prepare for growth opportunities.
An Opportunity to Structure That Firm Foundation
Now that Easter is behind you, where do you go from here? Are you one of the leaders who has dug your claws in and tried with all of your might to keep doing what you've always done? Or, has the current crisis helped you to recognize the need to reset and refocus? You may have even started to think about the need to address the current state of your foundation.
Over the past two years, 95Network has led 30 one-day conferences in many different parts of the country designed to help small and mid-size churches build a strong foundation for healthy growth. The conference is designed to encourage any leader who feels the need to build a firm foundation for the future. The topics we cover come from extensive research of churches from various sizes, denominations, and geographical regions. The focus is on Mission & Vision, Leadership Development, A Clear Discipleship Pathway, Effective Communications, and Creating A Healthy Volunteer Culture.
We are excited to be partnering with Faithlife and David C Cook to bring this conference to you virtually on May 20. Our team updated our teaching videos with the COVID-19 shutdown in mind. And I really hope you will take advantage of the opportunity while you have this time to reflect and strategize for the coming months.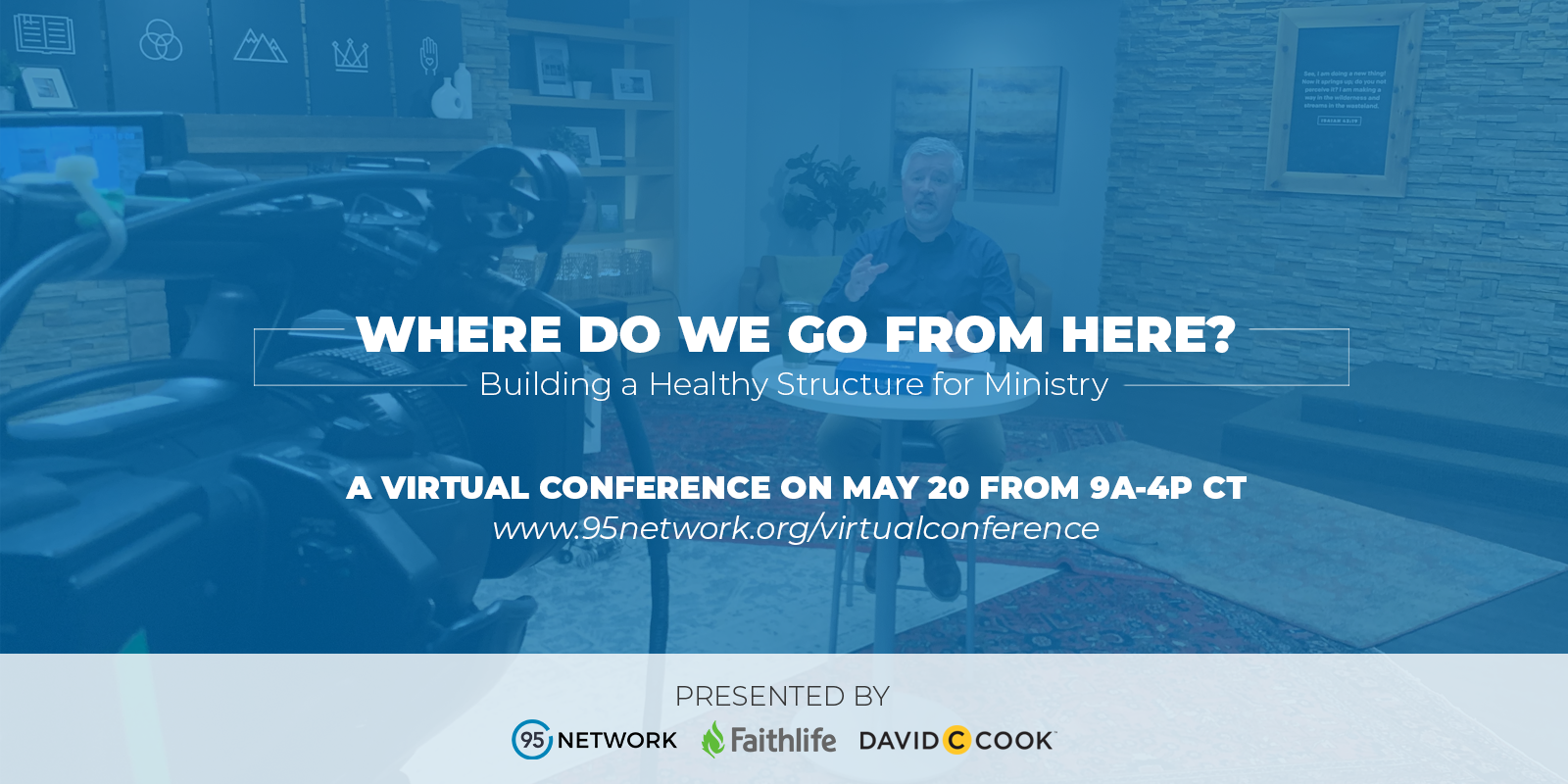 As you prepare to lead your organization into the future, please know that 95Network is here to provide support and encouragement. Let's prepare now for the opportunities ahead in order to impact your community for many years to come!